---
Trees Increase the Long –Term Health of Lakes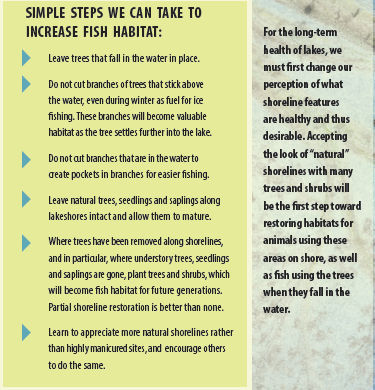 ---
Notice of  Lake Lowerings for Post Storm Deal Lake Clean Up
The recent storm caused numerous large pieces of debris ( large sections of dock, broken furniture, etc) to float away and are all around the lake. Some are obstructing the waterways.
If these larger or heavier  pieces of debris get caught up to the flume gates, they can cause damage there.
The Monmouth County DPW has offered to help to dislodge and remove some of the largest pieces that are blocking the waterway, and have asked that the DLC partially lower the lake in order to extract these larger pieces so they can work.
The lake will be lowered partially, starting Oct 3 and Oct 4. The rains are expected to fill it in over the weekend.
Then, in preparation for the Clean Up,  the DLC will begin to  fully lower the lake  on Monday, October 16th.
That week and week after the Clean Up is a great time for lake front owners to spruce up their shore line.
Boats should be secured and/or removed from the lake prior to the lowering to prevent damage.
Any trash and/or debris you can remove near your shoreline would be really helpful.
Also, if you are out on the water in a canoe, kayak or row boat that is capable of taking out some small pieces of debris you see floating on the lake, and you would like to help get it out of the water, please do so, but only do this in a very safe way. Do not attempt to take out anything that is very heavy or large. Put debris out on the day your town picks ups up that kind of  trash.
If you do see something large and heavy that can not easily be removed, please take a picture of it and post it on on the Deal Lake Commission's Face Book page describing the location of the debris.
Thank you for any help you can provide.
---
Post Sept 29 Rain Storm Report from DLC Chair
On behalf of the Deal Lake Commission I wanted to pass on the current lake status after Fridays ( Sept 29) storm and few other topics.
The Public can find current information on the lake any time  on Facebook, https://www.facebook.com/DealLake  Additional general information on our web site: https://deallake.org/
Deal Lake is down well over 3 feet from the peak and heading lower. Roads are open.  But the lake is still high.  It will take a few more days to get to top of Dam.    .
We have been battling storm(s), for over a week with high NE winds, full moon, and higher than normal high tides.   The FLUME HAS BEEN OPEN during most non high tide periods since Thursday the 22nd as I posted on Facebook on the 23.
There is no Easy Button to lower the lake which many folks have asked me in the last 24 hours.
The 7-inch dump on Friday (Sep 29th) happened mostly between 10AM-2PM which meant at least 4-6 inches of rain fell in the period.  Pus we had a 1- 1.5 inch storm on Thursday..
The lake went up in height to 6-7 feet above normal height in a short period of time 4-6 PM.
I strongly believe that the flume management the last 8 days prevented more flooding by keeping the lake as low as humanly possible prior to the Friday down pour. .
We had over 10 inches of rain in the 8 days..   7 inches in one day, Friday 29 Sep 2023.
Most streets where like Rivers.  Homes and Businesses were flooded.  I have never seen anything like this.  Have you?  (Some could say 2005 ,Super Sandy, or Irene but none of these dumped 7 inches of rain in one short period.)  .
There are over 200 storm drains feeding the lake, plus 6 large pipes flowing water into the lake the Hoover dam (basically each with same size pipe as the flume (outfall into the ocean).
This Massive flow of water into Deal Lake in such a short time  "backed up" water at three locations on the way to the Ocean.
These locations are the Railroad (RR) bridge by the 7-11,  the  Railroad bridge by Bar Co, in Loch Arbour and at our Flume gates ( last stop before the Ocean) which is only a 8X5 foot pipe to the ocean under the eighth Ave Jetty.
These lakes and streams bring Stormwater  into feed deal lake:
        1.   Sunset Lake and the whole section of Asbury south on Memorial Ave. to the post office.
        2.   Hollow Brook (Shoprite water shed section)
        3.   Seaview Mall and Nobility Crest/Cedar Village (Terrace Pond)
        4.   Lollipop Pond (Wegman's and area)
        5,   Fireman's Pond (large section of Wanamassa and Interlaken )
        6.   Harvey Brook:  (Wayside west of 18 , Middle brook apartments and shopping area)
The 2005 storm (northeaster) which flooded Loch Arbour/Asbury and Ocean. The big difference was this storm happened in basically 6 hours…or so. The 2005 storm was over a week period and had lot of rain and an ocean surge. .
Our one 8×5 foot flume pipe to the Ocean (our only drain to the ocean) can only move so much water.  These new storm events are a struggle, to say the least, but brings us back to the DLC past request for a pumping system that was denied by the DEP.   We'll revisit that.
Just assuming the lake should have been lower is better said than done when there are two storms back to back, higher than normal  tides, full moon and NE winds the whole period with some days blowing over 30 MPH.  .
Deal lake lowering efforts began Thursday Sep 22nd and basically continued and has not stopped.
The flume gates are still OPEN.  Thet have been open for basically 9 days,  with closing at various times prior to limit ocean surge at High tides and reopening when the high tide allows the flow out to  continue.
 I will be asking for a Backwater study to be conducted of the storm so we can plan for the future.   A future that I believe will be repeat due to rising seas and more intense storms. But we can minimize it further with some Big dollar projects to hold water up stream and allow better flow out.  .
MONEY is needed to fix the ills within the watershed past  (Building with NO Storm Water controls)   That will start with our "small" $900,000+ grant recently received from DEP at Seaview mall.   More Money will be required.  
We need stormwater controls west of 35 in Neptune and Ocean plus I believe another outfall line/or pump.  (PS – we did have a grant request for a pumping station which we did NOT receive).
With this said, I'm personally devastated by the flooding od Deal Lake and harm it caused to my lake friends and neighbors who put trust in me to keep them dry.
I did my best during a very long 8 days.
The Deal Lake Commission has tried its best to minimize flooding with various grants for improvements but these can only Minimize flooding and Not eliminate flooding.    
I wish all the residents a safe a fast clean up from this historic storm as I clean up my home and church.
Don Brockel,  DLC Chairman
---
DLC Conducts Successful Treatment of Eurasian Water Milfoil, Coontail and Parrot Feather on Deal Lake
Which Weeds Grow in Deal Lake
Weeds, or more correctly aquatic macrophytes, is the term used to describe the aquatic plants growing in Deal Lake. Aquatic plants are an important and intrinsic component of a healthy and vibrant lake ecosystem. They provide valuable habitat for fish, amphibians and a whole host of aquatic life.  They also help keep the shoreline areas of the lake stable and less prone to erosion.  And they also help filter, remove and assimilate nutrients and sediment that wash into the lake from lawns, paved areas and other upland sources.
The three most common weed species growing in Deal Lake are Eurasian Water Milfoil, Coontail and Parrot Feather.  All three of these plants look fairly similar.  They grow below the water's surface in thick stands.  Additionally, although examples of highly beneficial native and desirable plant species, at times and in given locations Yellow Waterlily and Pink/White Waterlily can reach nuisance densities that require management.  While the Dela Lake Commission actively addresses the growth of Eurasian Water Milfoil, Coontail and Parrot Feather, we are much more selective when it comes to controlling Yellow Waterlily and Pink/White Waterlily.
When Weeds Become a Problem for the Lake
At times, the growth of aquatic plants can get out of control and begin to interfere with the recreational enjoyment of the lake. This is especially true when it comes to the growth of the non-native, invasive species; the true weeds of the lake.  The problem with many of these non-native, invasive weed species is that they out compete the desirable native plants and, in the process, not only replace the native plants but alter the lake's ecology.

How Is the DLC Managing Weed Growth?
Due to the lower cost, ability to target non-native, invasive weeds and ease of application, as of late, the DLC has used herbicides as the primary way of controlling the lake's weed problems.
Herbicides are designed to chemically control weed growth.  These chemicals are specifically formulated and licensed by both the USEPA and NJDEP for use in lakes and ponds.  They must be applied by a NJDEP licensed and trained applicator and in accordance with a NJDEP permit that includes a number of use restrictions.  Although some aquatic herbicides may affect upland plants, they are considered very safe by  both the USEPA and NJDEP relative to fish, amphibian, reptile and bird life as well as humans. 
Who Conducted the Recent Weed Treatment on Deal Lake?
There are a number of NJDEP certified aquatic herbicide applicators in New Jersey.  This year, the DLC engaged the services of Lake Management Sciences (LMS) to conduct weed treatments in the Colonial Terrace arm of the lake.  They were also hired, if needed, to conduct weed treatments within the lower part of the lake's Hollow Brook arm and the western most section of the Sunset Landing arm of the lake.
How Is This Treatment Carried Out and Where?
This year, only the weeds growing in the Colonial Terrace section were treated.. The plants targeted for control were Eurasian Water Milfoil, Coontail and Parrot Feather.  No treatments were conducted to control the waterlily.  The treatments were conducted in early June.  Because there are no "pre-emergent" aquatic herbicides, treatments cannot be conducted before some weed growth has started.  Also, the scheduling of treatments has to take into account weather conditions, lake flow, and turbidity, all of which can affect the efficacy of the herbicide.
How Successful Have These Treatments Been?
This year LMS used ProcellaCOR a fairly quick acting, low biotoxicity, systemic herbicide that is especially effective in controlling Eurasian Water Milfoil, Coontail and Parrot Feather without affecting native plants and waterlily.  The initial treatment proved to successfully control Eurasian Water Milfoil, Coontail and Parrot Feather.  Subsequent site inspections of the treatment area conducted over the past few weeks by LMS and the DLC confirmed the weed growth in the Colonial Terrace area remained under control.
If you would like to learn more about weed control, the benefits of aquatic plants or anything else about the management of the Deal Lake ecosystem, please contact the DLC  or view the DLC website.
---
DLC/USDA Goose Management Effort
Nesting Season Is Over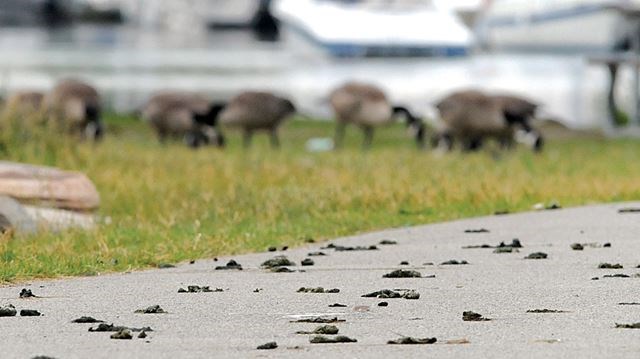 Many of you know that this year, the DLC launched a Goose Management initiative with the USDA to treat goose nests for all 7 towns along the Deal Lake shoreline.
There are many reasons to manage the geese population around the lake.
Canada Geese, on average, drop between 1 to 1.5 pounds of feces every day! Droppings can carry e.coli, salmonella and other bacteria harmful to humans and pets.
Geese are major contributors of Phosphorus and Nitrogen in waterways.  These nutrients come directly from goose excrement and cause lake eutrophication.
The DLC/USDA initiative  has been a major undertaking with the cooperation of lake residents and the municipal leadership in all 7 towns that the DLC serves.
Many residents helped by reporting nest sitings and others signed permission slips so that nests on their property could be treated.
The commissioners were out educating the public and helping to get permission slips signed so that theUSDA could go on private and public property to treat those nests.
Goose nesting season is over now.
We will have a more detailed report from the USDA later in the summer, but we have observed a significant decrease in the goose population around the lake.
Thank you to all who participated and supported us in this initiative. It is the DLC's hope that we will continue this effort each year in order to keep the goose population down.
---
Important News About DLC Shoreline Protection Efforts

A large part of the mission of the Deal Lake Commission (DLC) is "to provide leadership, guidance, and resources to preserve and restore Deal Lake and its tributaries as a healthy and stable ecosystems…".  Protecting the lake's natural shoreline is an important element of this mission.  A well vegetated shoreline is less subject to erosion, serves as a natural stormwater "filter", and provides critical habitat for aquatic and riparian species.  Improper clearing of vegetation, soil grading, building of filling along the lake front can rapidly destabilize the lake's shoreline and result in an array of environmental impacts that compromise the lake's water quality and ecology and can even exacerbate flooding.
The New Jersey Department of Environmental Protection (NJDEP) has in place regulations specific to the land 50 feet adjacent to the Deal Lake shoreline as well as any land 50 feet adjacent to all streams draining into Deal Lake.  These lands are often referred to "riparian areas" and are an important ecological element of the ecosystems of both Deal Lake and its tributary streams.
Currently, five NJDEP environmental complaints have been filed, each specifically dealing with property owners who have removed trees and riparian vegetation, disturbed/altered the shoreline, or have placed fill (soil) in the lake.  In all five cases, the NJDEP was alerted by concerned residents via the NJDEP HOT LINE.  The DLC has subsequently remained in contact with the NJDEP regarding the NJDEP's investigation of these complaints to confirm whether these reported activities violated NJDEP rules and administrative codes that protect the lake, the lake's tributaries and the wetland and riparian areas abutting the shoreline of the lake and its tributaries.
Please note that neither the municipalities nor the DLC regulate or issue permits or  approvals for shoreline work or work conducted adjacent to the lake or its tributaries.  Only the NJDEP issues permit(s) or approval(s) for such work whether it be some form of maintenance or new construction.
Therefore, property owners are obligated to contact the NJDEP, rather than the local municipal building department, before beginning any construction, renovation or maintenance project along the shoreline of the lake or its tributaries.  The NJDEP will guide you and/or provide reference to the applicable regulation defining what can and cannot be done within the lake and within the 50' area adjacent to the lake.
Here are handy two links to NJDEP Division of Land Use Protection for guidance relative to in-lake and shoreline regulations and  permits:
1. https://dep.nj.gov/wlm/lrp/permit-applicability/
2. NJDEP Contact : https://dep.nj.gov/wlm/contact-us/
You can contact the NJDEP 24-hour HOT LINE by calling 1-877-WARNDEP( 1 877-927-6337). When doing so, keep a record of the report you filed and the report number assigned to your call.  This will help you and the DLC follow up on the status of action taken by the NJDEP.
The DLC provides educational workshops and outreach materials for the public as well as municipal employees and elected officials on this topic. The DLC has prepared printed guides as well as digital information available to the public via the DLC's website (https://deallake.org/ ).  These materials are designed to keep everyone properly informed relative to what a property owner should do when buying, building or renovating, or clearing property along the shoreline of the lake and its tributaries.
How You Can Help Protect The Shoreline

The Deal Lake community can help the DLC meet its mission by sharing this information.  Refer to the DLC web site (left column on Home Page) for more information on this and other issues relevant to the protection and restoration of Deal Lake.  The DLC appreciates  your help with this and other important matters critical to promoting the ecological health of Deal Lake.  We can't do this without your assistance and support.
---
Deal Lake Citizen Scientists Needed

Have you always had an interest in science and the opportunity to bring out your inner "Geek" ?
Our Deal Lake water testers are part of a much larger Coastal Lakes group that provide an important service to  Deal Lake and our community.
As part of the Deal Lake water testing group, you will have a chance to get training lake side from a CLONET biologist with all materials provided, so that you can sample lake water and record your data.
The only requirements are that you have an interest in attending a short training session lake side with the biologist and that you can commit to testing water at a spot on Deal Lake a few very flexible hours a month.You set your schedule.
There is also the option to attend an annual meeting at Monmouth University to meet other Citizen Scientists. There you will  learn about the results of the Water Testers' data and what it all means.
If you think you'd enjoy this interesting opportunity, please send a note via the DLC web site contact page: https://deallake.org/about/
Subject heading : Interested Water Tester
Then fill in your contact information.
Someone will reach back out to you.
---
DLC Hosted Presentation Given by Two Prominent Lake Scientists  for the Public
Prior to the April 20 DLC Meeting,  Drs. Jason Adolph and  Steve Souza gave a very interesting presentation to the public entitled:
In this workshop, Dr. Steve Souza and Dr. Jason Adolph lead a discussion of how monitoring and restoration work together.
Dr. Souza focused on past and upcoming restoration activities, while Dr. Adolph focused on what we've learned from 4 years of citizen, state and university CLONet data for Deal Lake, and what we can expect to learn through continued monitoring.
---
Asbury Park Fishing Club 2023 Carp Contest Reeled in 100 Pounds of Carp
---
Deal Lake Spring Clean Up  March 26th at 9AM-12PM

Come join your lake community in cleaning up our lake.
Meet at the Boat Ramp in Asbury Park 801 7th Ave, Asbury Park, NJ 07712
Wear old shoes or boots. We provide bags, grabbers, gloves, protective covers for shoes.
If you prefer, select an area around the lake that you know needs cleaning and take it on.
The lake will not be lowered for this Clean Up.
Thanking you in advance!
---
---
Awesome Turn Out! Deal Lake Clean Up Nov 12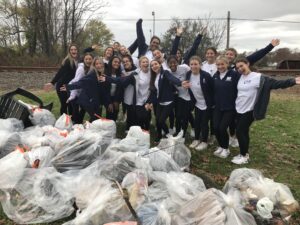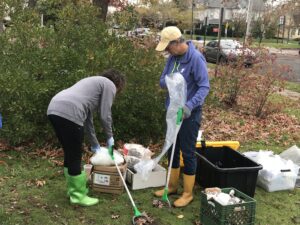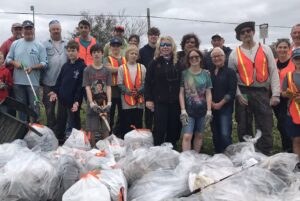 Wow! At one point, we simply lost count of the number of volunteers who came to help out at the Deal lake Clean Up on Nov 12.
We stopped keeping track at around 250 people; Monmouth University Students, Boy Scouts, friends and families from all seven lake towns, kayakers, fishermen ( and women) turned out.
We had anticipated that the heavy rains and winds the night before might bring less of a turn out. But—to our pleasant surprise, Deal Lake Advocates came in droves. We were overwhelmed and grateful to see the enthusiasm of so many wonderful folks who spread out all along the lake front to pitch in. The sun got warmer and brighter as the time passed. An anonymous person from Neptune came by and quickly dropped off coffee and chocolate covered donuts by the boat ramp saying he just wanted to do his part. Smiles all around !
Thanks so much to all who came out in the wind on Saturday and put in as much time and effort as you could. The lake front looks sparkling clean!
---
Adopt-a-Drain by AP Green Team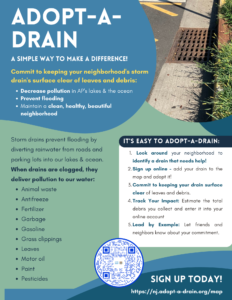 ---
The Benefits of Leaf Mulching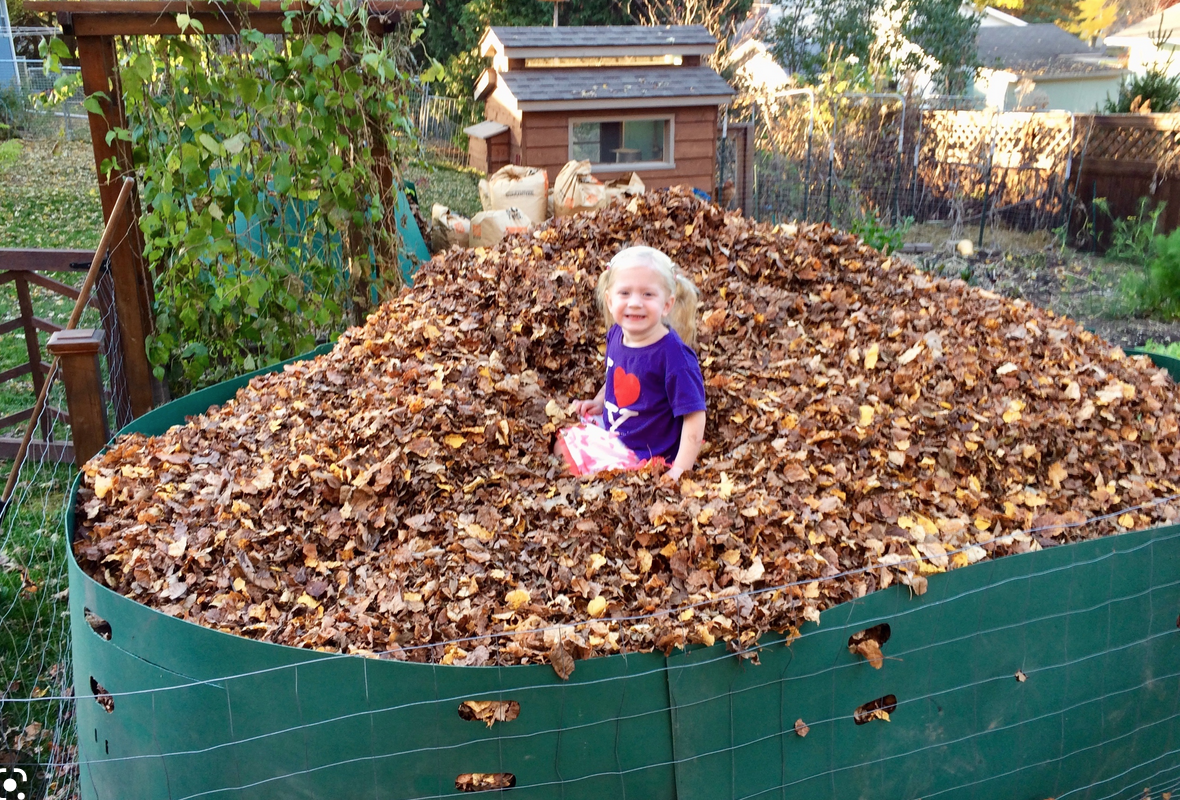 A future butterfly
Have you wondered about the recent campaigns to "Leave the Leaves"?  It means, rake them off any area where you truly want lawn, but find a home for them in your yard (ideally under their origin tree or under shrubs, etc.) and, for heaven's sake, Don't Shred or Blow them!
Here's why:
The obvious, but incomplete, answer is that you'll be more popular and help the planet by sparing your neighbors the noise and air pollution created by blowers.   But it goes much deeper.
Caterpillars (future butterflies and moths) eat the leaves of particular native trees.   When it's time to begin their metamorphosis, 90% of them drop to the ground to camouflage themselves inside a protective chrysalis.  They survive the winter sheltered in the leaves beneath their host trees or burrowed slightly below the ground along with other essential and beneficial insects, including the gentle bumble bee.   Shredding and blowing these insulating leaves will end or significantly jeopardize their life cycles.
Besides protecting the population of beneficial insects, the gathered leaves will increase nutrients and absorbency in your soil for healthier plants – just look at the rich forest soil for evidence.
Find out more about the benefits of leaf mulching here:
https://xerces.org/leave-the-leaves
---
---
Newark College of Engineering (NJIT) Tests Out Algae Harvesting Machine on Deal Lake
If you were out walking near the Asbury Park Boat Ramp on the morning of August 20, you would have seen an array of very unusual looking machines launching at the ramp.
NJIT's Engineering Dept was experimenting with a new Algae Harvesting Boat. They are testing the new machine's  ability to remove blue green algae from the lake.
This machine was manufactured in China and shipped to the USA for experimentation purposes.
The DLC is hoping to get the reports back from the professors involved in this project, so that Dr. Souza can  speak about the results at our next DLC Meeting.
---
Monmouth County Sheriff's Dept. To Patrol Deal Lake
The DLC has partnered with The Monmouth County Sheriff's Department to improve boating safety on Deal Lake and to help preserve the lake's shore line.
Sheriff Shaun Golden's office developed a "Boat Safety" tri fold pamphlet for boaters. LINK
Officers will be cruising the lake, speaking with boaters about safe boating practices and distributing this new educational material.
The DLC is very grateful for the MC Sheriff's Department's support.
We especially want to thank Sheriff Golden for his part in working with the DLC to help preserve the lake's shore line, educating the public and keeping boaters safer.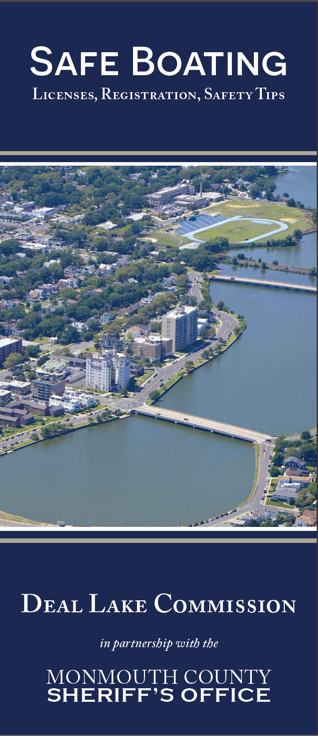 ---
Invasive Weed Treatment
Some good Deal Lake News.
When left to grow and spread, fast growing invasive weeds like milfoil and parrot feather can destroy fish and wildlife habitat and stop recreation like kayaking and fishing.
Over the past two years, as part of our effort to control invasive weeds, the DLC hired a vendor to treat sections of the western part of Deal Lake.
After the treatments last spring, the results were visible, and there were far fewer weeds. DLC Environmental Scientist, Steve Souza, told the commissioners that it would likely take several years of applications to see the greatest reduction of weeds in those areas where the treatments were applied.
The weed treatments continued again this year in May and June.
The area west of the Wickapecko Bridge had been an area of thick overgrowth of invasive plants . The pictures below were taken looking west from the Wickapecka Bridge at the end of July. Today, there are no signs of the invasive weeds.
Dr. Souza has told the DLC that he feels the treatments have been very successful.
April 21 Education Workshop for Public 6:15 PM was presented by Dr Jason Adolph before the DLC Meeting
View – Dr. Adolph Water Sampling Workshop – April 21, 2022
---
Monmouth University has received a $127,600 grant from the New Jersey Department of Environmental Protection (NJDEP) to monitor Sunset and Deal lakes as part of a study of factors driving cyanobacterial harmful algal bloom (HAB) formation in New Jersey lakes.
Read more here: https://www.monmouth.edu/uci/2022/02/17/monmouth-u-to-monitor-deal-sunset-lake-conditions-as-part-of-statewide-probe-of-harmful-algal-bloom-causes/?fbclid=IwAR2kniPGy7Kl0pQbYnAe6_kWZ_ey8rzXigTl-lfmVU-USmkioZ_XGdBp4xw
---
Goose Management Education Workshop – Oct 21  6:00 PM
The DLC hosted a Goose Management Workshop for the public on October 21.
The presentation was given by a Wildlife Biologist from the USDA/Wildlife Services of NJ about the reasons and techniques for controlling the goose population.
This workshop was well received and well attended.
If you missed it, you can see a recording of the workshop on APTV and local cable TV stations.
---
Asbury Park High School Engineering Academy Students Learn from DLC Experts in October
The DLC' takes its  mission  to promote education about Deal Lake around our community seriously.
As part of the NJDEP 319 Water Quality Improvement Grant, our science consultants and engineering experts involved with the 319 grant worked with Asbury Park High School engineering teacher Kevin Gould and his students.
DLC science consultant, Dr. Jack Szczepanski prepared a virtual presentation called "Ecology and Engineering in Asbury Park" for Mr Gould's students.
Our engineering consultants Peter Avakian and Matt Martino also held virtual meetings with students in preparation for their field trips to see the installation of the new Manufactured Treatment Device in Asbury Park.
The pictures show students watching the installation  on Memorial Drive and then on the following week, students were invited to watch the Dept of Public Works cleaning out an MTD on Comstock Street.
Mr Gould said that his students were very enthusiastic about all of their experiences with the DLC. It helped make engineering ideas come alive for them.
The Third Manufactured Treatment Device Installed in Asbury Park
The third Manufactured Treatment Device that the DLC purchased through a NJDEP Water Quality Restoration Grant has been installed on Memorial Drive in in Asbury Park. This, the largest of the three MTD devices recently installed in Asbury Park, will help treat storm water run off from the railroad watershed from the Asbury Park post office area to Sunset Ave.
Two smaller devices were installed on Sunset Lake two weeks ago. (See post below)
The DLC would like to express our sincere appreciation for the cooperation by the City of Asbury Park with this project. The Asbury Park Police and the Asbury Park Dept of Public Works have been stellar!
We could not have done this project without their efforts! Thank you to the Asbury Park employees who helped us with this enormous project!
---
GREAT NEWS! GOVERNOR MURPHY SIGNED THE LAKES BILL!
---
Floating Wetland Islands Installed – Thank You to All Volunteers
The Deal Lake Commission would like to thank the 30+ volunteers who helped install 6 floating wetland islands in Sunset Lake and 6 in Wesley Lake on June 16 and 17. We'd also like to thank the City of Asbury Park for their assistance with this project.
The Deal Lake Commission was awarded a Clean Water Act Section 319(h) grant by the Environmental Protection Agency to install the islands, with the help of aquatic engineers from Princeton Hydro.
Floating Wetland Islands improve water quality of stormwater runoff and manage watershed nutrients, as well as treatment of wastewater and other industrial contaminants through natural processes. In addition, the Floating Wetland Islands present an excellent educational opportunity for the community.
More information about Floating Wetland Islands can be found here.
NBC TV News produced this segment about the Floating Wetlands Project. See it here:
---
---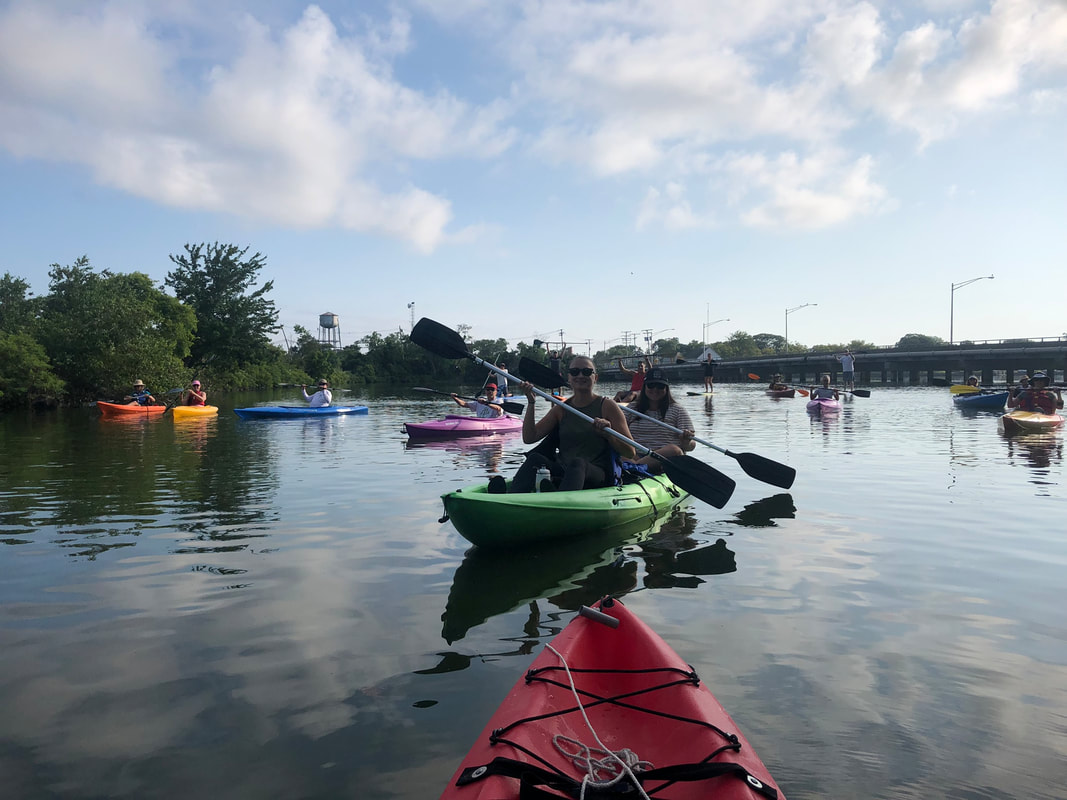 It was a beautiful breezy day for the September 14th paddle on Deal Lake led by Bob Jaroszewzki. (more pictures of the tour)
---
Lake Poster Contest
As students study at home during the COVID-19 Pandemic – the Deal Lake Commission promoted a Poster Contest sponsored by the North American Lake Management Society. This fun activity gave students and their school a chance to win cash prizes.
Ms. Juslaine Costanza, an art teacher at Asbury Park's Bradley Elementary School, submitted these pieces of her students' art work to the Lake Management Society and shared them with us.
We are grateful to Ms. Costanza and honored to post the lovely art work of these young Asbury Park students!
---
News from Our May Meeting:
MTDS: Peter Avakian spoke about the newest developments in the 319 Grant and showed the locations for the new Manufactured Treatment Devices that will be placed in Sunset Lake and Deal Lake.
Great Lakes of NJ Efforts: Dr. Souza spoke about the new DEP Blue Green Algae Alert changes.
Flume Electrification: Green indicator lights are operating at the flume now. Green light on means the flume is open. Gauge placement for three gauges is being planned.
---
News From Our April Meeting:
During the April meeting, the DLC discussed such things as;
Continuing lake testing and reporting to CloNet (Monmouth University)
Progress on the Flume Electrification Project
the Water Quality Restoration 319 Grant
Weed Control Project
Weed Control Proposals
Dr. Souza's memo on this topic can be seen here: https://deallake.org/grant-proposal-requests/. Updates, video and photos of the new flume gate can be seen on the DLC Facebook page (March 23 post).
---
News From our February Meeting:
The Deal Lake Watershed Alliance met with the DLC for our first workshop. We discussed ways that the DLWA and the DLC can work together to help to restore and protect the lake. A number of cooperation opportunities were discussed. The DLWA has begun talks with legislators and the owners of Seaview Square Mall about reducing water volume and sediment run off. The DLC will support this effort.
Among other items on the agenda, the DLC emphasized the need for local geese control efforts. Goose fecal matter contains high phosphorus and the average goose deposits 1.5 to two pounds of fecal matter per day. Phosphorus supports algae growth.
If you see goose nesting sites, please help by reporting the nesting area you see to the official in your town who can take appropriate action (see link to contacts).
Dr. Souza gave a talk on Weed Control methods and safe, low toxicity ways to treat invasive weed overgrowth. He identified some areas of invasive overgrowth . The DLC is sending out Requests for Proposals to treat those areas.
---
News From our January Meeting:

319 Grant: Educating the Communities:
As part of the 319 grant objectives; the DLC started a first in a series of educational brunches for city personnel and leadership in the seven municipalities  that we serve. The educational programs are offered to help attendees to gain an understanding of the value of grey and green infrastructure storm water management and their role in improvement of water quality of the local lakes.
New Commissioners:
During the January organizational meeting: the DLC welcomed two new commissioners to the DLC.
Interlaken's new representative is Carolyn Roarty. Loch Harbour's new representative is Margo Fernicola. Welcome new commissioners!
Citizen Scientists/Water Testing
We had a very positive response to our call out for Citizen Scientists to help test the lake. Our newest CS volunteers braved the 20 degree temps to complete their training with Dr. Adolph recently. Some eager participants have already begun testing the water at designated spots at regular intervals. This data will add to the information regarding quality and chemical composition being collected by other parties. Lake monitoring will play a role in detecting changes and determining the lake's overall health and viability over time.
---
News From our December Meeting:
Topics included:
Water Test Reports: from Clean Ocean Action and Ship and Sniff
Flume Electrification:
Leon Avakian Engineers provided an update on the Flume Electrification Project. The flume should be completely automated and operational by late spring.  They will not need to do any more lake lowering for this project.
Progress of Water Quality Restoration Grant

:
Plans for Green Infrastructure and Manufactured Treatment Device locations have been identified.
WQR Informational Breakfasts will be provided for municipal officials and personnel, and lake commissioners on January 9th . Subsequent meetings will follow.
Weed Treatment:
The DLC voted to authorize Dr. Souza to prepare a Request for Proposals for weed treatment of identified hot spots for a spring treatment.
---
News From our October Meeting:
Special Presentation:
Thanks to all those who attended the October DLC Meeting and presentation: "Storm Water Management and Green Infrastructure for Property Owners".
Here is a link to the Presentation as presented by Dr Souza and Jeannie Toher at the 10/19 DLC meeting. Great resources in this presentation.
Flume Electrification Project:
Peter Avakian discussed the progress of the Flume Electrification Project. You can see photos of this progress on our Facebook page.
DLC Meetings Will Be Televised:
Thanks to Asbury Park for paying to record and televise DLC meetings starting with our October meeting.
APTV is available within Asbury Park on Optimum 77 and throughout most of Monmouth County on FiOS 30. People outside of the city can watch APTV on  the APTV website, www.asburyparktv.com, or by downloading our app on Apple TV or Roku devices. To find the app search "APTV."
---
Flume Electrification Project Is Progressing
 
During the DLC's June meeting: DLC Consulting Engineer Peter Avakian presented plans for the Flume Electrification Project to begin soon (for more information go to Bid, Grant & Proposal Requests
---
Why are some of New Jersey's lakes suddenly off limits at the peak of our summer swimming season?
More often than not the reason for the closing is a harmful algae bloom (HAB).
Click below to read Dr. Souza's article on this topic:
"More Nutrients Are Not Always a Good Thing: The Case for a Harmful Algal Bacteria Standard in NJ"
---
Great Blue Heron Party on Deal Lake!
 
Photo courtesy of Janis Rush
---
What Watershed Residents Can Do To Help Deal Lake:
Do NOT feed the geese or any Fowl. 1 adult goose produces 2 pounds of waste per day.
Report Goose nests to town offices or the DLC in the March-May time frame.
Leave grass clippings on your lawn, compost away from the lake and/or dispose as instructed by towns.  BUT please do not place them in the street.
Use less fertilizer or low phosphorous type.
Spread fertilizer a few days or more prior to heavy storms. Know the weather!
Pick up after your pet.
Sweep and containerizing the dirt and debris in the curb by your Home/Business.
Do not blow grass clippings and yard waste into the lake or streams.
Pick up litter during your walks around the lake or for that matter anywhere.  Keep America and your Lake Beautiful
---
---
Deal Lake is a Treasure!
Deal Lake is a beautiful treasure savored by residents, vacationers, fishermen and boaters for over a century. Lenni Lenape Indians would fish and eat the bounty of clams and oysters. During Colonial times the British harvested seafood to be sent back to England. During the Revolutionary War, Patriots would execute small attacks on British ships retreating to Deal Lake for cover from the British Navy as they fired their cannons at them.
Called Lake Uliquecks by the Lenape Indians, an 1781 map shows Deal Lake was known as White's Pond. In the early 1800's it was known as Hogs Swamp Pond. On the 1851 Lightfoot map, it was called Corlies Pond or Great Pond while Sunset Lake was known as Little Pond. An 1873 map calls it Boyleston Great Pond and shows it still is accessible to the ocean. With the engineering completed around 1890, Deal Lake was created as it is known today, closing off the inlet and creating several separate lakes and ponds. Deal Lake was a model system of the late nineteenth century for Flood Control and Storm Water Management. Over time, the lake lured many to build along its banks. Today, almost the entire shoreline has been developed with many homes built within the 100 year flood plain.
The Deal Lake Commission was created by the seven Monmouth County, NJ towns that surround Deal Lake. The Commission was chartered in 1974 by the Borough of Allenhurst, City of Asbury Park, Borough of Deal, Borough of Interlaken, Village of Loch Arbour, Neptune Township, and Ocean Township.
Today, the Commission oversees the vitality, on-going maintenance and restoration to preserve Deal Lake for future generations. Each town appoints one volunteer Commissioner to serve annually. Commissioners give of their time because of their love for this lake and for their desire to preserve this treasure for future generations.

Useful Environmental & Emergency Links 
> Click Here for Flood Insurance Rate Helpline

> Click Here for Useful Information on Proper Leaf Maintenance and its Environmental Impact

New Jersey Department of Environmental Protection Hotline.
The Department has establised a new toll-free telephone hotline number you can use to report environmental incidents, abuses, and complaints in New Jersey. The 1-877-WARNDEP number can be used in the New Jersey, New York, Pennsylvania, and Delaware calling areas.: