The Great Flood of 2005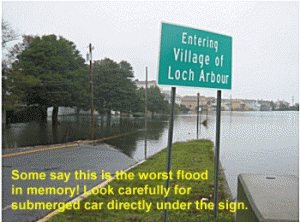 In the late 1890s, Deal Lake was designed to be a model regional storm water drainage basin long before the watershed had highways, malls and large track developments. To keep Deal Lake picturesque, the ocean inlet was closed to maintain a high tide level by building a state-of-the-art flume. At high tide the flume allowed some seawater to enter the lake, which also allowed the herring to continue to run and spawn in the remote fresh water sections of Deal Lake.
Let us fast forward to 2005. With about 90% of the watershed developed and less than 1% of the land area having any resemblance of modern storm water management systems the main body of Deal Lake was doomed to flood after being drenched by a major 100 year rain event.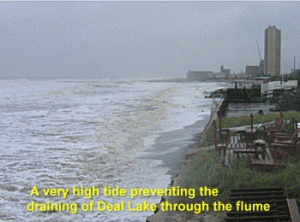 Rain started falling on Friday, October 7th. By Monday, 1.5 inches had fallen and the flume was fully opened to relieve the flooding pressures. Rain continued with an additional 5.8 inches by Wednesday lunchtime. As a Northeaster formed, the heaviest rains came Thursday into Friday, October 14th soaking the already saturated watershed with another 6.5 inches. No way could this Coastal Lake handle 13.8 inches of rain over the short period of just 8 days.
In addition to the Northeaster, the tides were under the influence of a full moon which helped trap the enormous storm water runoff. Even when the tides were low, the Deal Lake flume could not handle the runoff volume fast enough to keep the lake below severe flood levels. Residents who were flooded by the Northeaster of December, 1992 report this flood was about 12 inches higher.