Deal on Deal Lake
By Bob Jaroszewski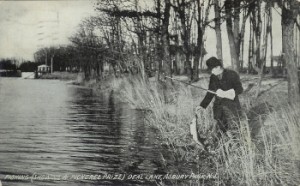 What's 158 acres, allows unlimited horsepower engines, and has a healthy population of marauding largemouth bass, some weighing larger than six-pounds? Since you're on deallake.org I'm hoping you guessed Deal Lake, but aren't you shocked to hear that trophy bass are stalking its brush-laden shorelines?
Deal Lake is absolutely one of New Jersey's best kept fishing secrets. While it doesn't boast the species variety of some of other well-known NJ lakes, the quantity and quality of the largemouth bass more than make up for it.
To be sure, bass are the main targets of most anglers who fish the lake. In addition to the bass there are some carp pushing twenty pounds but few people fish for them. Sadly, there used to be a nice population of pickerel but unfortunately they disappeared as soon as the weed-beds started to vanish. Also, the NJ Division of Fish & Wildlife spent many years trying to establish a population of tiger muskellunge and northern pike but the results have not justified further stockings.
Boating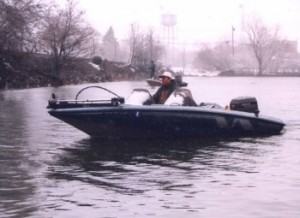 As mentioned above, Deal Lake is one of the few Jersey impoundments that allow unlimited horsepower engines. This is a boon to Monmouth County bass anglers who don't feel like driving up to Lake Hopatcong to use their 150-hp equipped bass boats. With that said, however, the vast majority of the lake is "no-wake" due to its narrow layout and vulnerability to erosion. The only portion of the lake that isn't no-wake is east of Rt. 71 and west of Norwood Avenue.
In addition to bass fishing, there is a dedicated legion of rowers who propel their racing surfboats up and down the length of Deal Lake. As long as the lake isn't iced over these racers will be on the water, sometimes even before daybreak. In fact, a very popular manufacturer of these self-bailing vessels (Asay Boats) is located right on Ocean Avenue in Asbury Park. When on the water please remember that they always have the right of way.
In addition to surfboats, canoeists and kayakers also utilize the lake. Its shallow nature and abundant wildlife can make a day on the water quite pleasing. Sightseers should keep their eyes open for raccoons, chipmunks, osprey, great blue herons, night herons, green herons, egrets, mallards, wood ducks, cormorants, loons, painted turtles, snapping turtles and variety of other interesting creatures. Be sure to bring your camera!
In order to launch your vessel you'll need to use the ramp located on Deal Lake Drive across from the 7-Eleven in Asbury Park. There used to be a nice floating dock there but it floated away after one our numerous storms so care is to be exercised when unloading your rig.
The Lake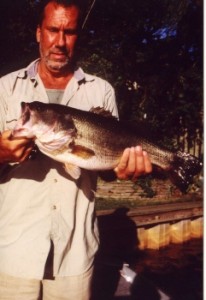 Once on the lake, you will be amazed at the amount of fish-holding fallen trees (laydowns) and to a lesser extent lily pads that adorn the shoreline. In terms of depth, you may as well leave your electronics home. Ninety percent of the lake is between three and four feet deep, and a majority of the best fishing will be accomplished by probing the shoreline structure. Also, the clarity of the lake is usually quite stained so don't be afraid to use heavy tackle when flipping baits among the mazes of sharp branches and twigs.
One final note concerning the lake's layout is the flume and sluice gates found at its eastern end. The flume leads out to the ocean and in addition to controlling the lake level it also acts as a passageway for migrating herring. These herring return from the ocean to reproduce every year. Any surf fisherman in the area also knows that this creates a virtual dinner table for hungry striped bass that line up along the adjoining 8th Avenue jetty and wait for an easy meal. Although the stripers do not make their way into the lake, knowledge of the flume is essential since it provides a conduit for the herring to enter and consequently become the main forage of the largemouth bass population.
Seasonal Fishing Guide:
Spring – Don't wait too long to start fishing. Because of its shallow nature the lake heats up very quickly. It only takes a stretch of three or four warm days to create ideal pre-spawn conditions. Look for water temperatures to break fifty degrees, but even high forties can put you into some fish. A jig-n-pig amongst the trees is hard to beat, but remember to work the bait very s-l-o-w-l-y. Bass will still be very lethargic until the water temperature hits the mid-fifties.
Once in the fifties, it's time to break out the four-inch curly tail worms and fish shallower than you ever thought possible. Deal bass spawn in water barely deep enough to cover their backs. In fact, your best bet is to cast Texas-rigged worms onto the shoreline and slowly crawl them into the trees and sticks. A single Colorado Spinnerbait also works well since its large thumping blade will draw reaction strikes from otherwise inactive bass. Both sides of the Wanamassa section should be targeted at this time.
Summer – Early summer is truly my favorite time to fish the lake. Once the spawn is over, many bass will move off the shoreline and take up residence in the lily pads. This makes them easy targets for weedless spoons and soft jerkbaits. Cast into the heart of the pads and retrieve your baits across the surface. Just remember not to set the hook as soon as a fish smashes your lure. Wait a second or two and try to feel the bass before rearing back. You will miss far fewer strikes this way. Lily pads are found throughout the lake and they're all good, so just put down your trolling motor and start fishing.
Once the heat of the summer sets in the water temperature will skyrocket into the upper eighties so the best fishing will be in the low light hours. A good idea is to pitch small Slider worms and light jigs underneath the bridges that cross the lake since their ample shade will provide more suitable summertime bass cover. Some enterprising anglers fish the lake after dark but one should exercise caution and really get to know the area before attempting a nighttime excursion.
Fall – This is my second favorite time to fish the lake since bass will shake off their summer sluggishness and begin to feed in earnest among the shoreline wood. The key factor to remember is that the lake is very susceptible to the many cold fronts that will blow through the region at this time of year. Be prepared to adjust strategies accordingly, but a black and blue jig-n-pig worked among the outer edges of the laydowns usually will be your best bet.
Another exciting way of catching some of Deal's truly humongous bass is to fish buzzbaits at dusk. This method will work right up until the water temperature dips below 63-degrees. Remember, the colder the water, the slower your retrieve should be.
Winter – Alas, we do not live in Florida and this lake is one of the first to freeze over in the winter. Even if you're among the ice-fishing crowd I would not recommend this lake since the abundance of shoreline cover makes ice conditions generally unsafe. Even when the ice is safe the shallow water found throughout Deal is generally frowned upon by hardcore ice fishermen.
Final Thoughts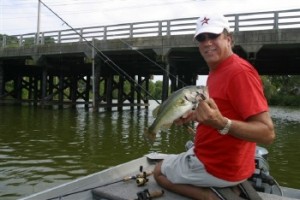 While the lake currently supports a sizable population of largemouth bass it is and will always be a fishery on the brink. There are many challenges facing the lake, mostly because it is a catch basin for a large, mainly impervious piece of land known as the Deal Lake Watershed. Storm water management is crucial to the lake's future health. Thankfully the Deal Lake Commission is working on a groundbreaking management plan which should greatly improve the quality of the lake.
Nevertheless as New Jersey anglers we must do our part to preserve the lake. In addition to picking up trash, reporting litterbugs and complying with lake regulations we should be practicing catch and release one hundred percent of the time. Furthermore, pinching the barbs down on your hooks will aide the release process and preserve the bass population for generations to come. As the famous fishing pioneer Lee Wulff once said, "A gamefish is too valuable to be caught only once."
Bob Jaroszewski teaches fishing classes in Monmouth County, is a field editor for the New Jersey Angler Magazine (www.njangler.com), and is greatly concerned about the future of Deal Lake. For more info, email Bob at or check out Bob's own Web site at www.fishingwithbobj.com.